There are some considerations to make when looking for Catback Exhaust Supplier in Dubai. If you are looking for performance gains and need a catback exhaust for that, we can tell why it is essential. If you are looking for power, then you should consider increasing exhaust gas flow to the engine. This can be done by installing either a header for naturally aspirated vehicles or a downpipe for turbo cars. We'll show you more benefits of Catback exhaust suppliers in Dubai.
The Perks of Cat-back Exhaust
Horsepower Increases
Your vehicle will not perform to its maximum potential if it experiences a 10% to 20% reduction in power due to the exhaust system. A slight loss of power can make a big difference in your vehicle's performance. Your entire exhaust system could benefit from a boost in power by using a cat-back exhaust. This will increase your vehicle's horsepower and torque. This applies even if the rest of your exhaust has been upgraded. The cat-back can cause too much back pressure, which could limit the flow of other parts of your exhaust.
Standard mufflers have smaller diameters than cat-back systems. The large openings allow air to flow freely because they have more room. The piping for a cat-back exhaust is made from a high-quality shaft. This enhances the airflow's smoothness but is not a significant benefit.
However, it is important to note that the success of a cat-back exhaust system will depend on both your vehicle's exhaust system design and its catalytic converter. A cat-back can be a great way to improve your vehicle's performance if your exhaust system is large enough.
A factory exhaust system that restricts airflow won't benefit as much as a cat-back exhaust.
Improved Fuel Economy
The fuel economy of your car can be improved by using cat-back exhaust systems. The engine doesn't have to work as hard to remove harmful exhaust fumes because the airflow is improved throughout the exhaust system.
This decreases resistance, which means that the engine does not have to lift as much weight every time it starts. This reduces fuel consumption. Your vehicle's mileage per gallon (MPG) and fuel economy may increase when you travel on freeways or city streets.
Improved sound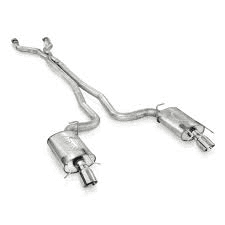 You can significantly improve the sound quality of your vehicle by installing a Catback system. This will depend on the sound you desire for your vehicle to emit. Many cat-back exhaust systems will suit your tastes and preferences. Before you buy a cat-back exhaust, make sure it suits your style.
If you desire a loud, grumbling sound from your car, make sure you get a system that can do this. If you want your car to be as quiet and comfortable as possible, the same goes for it.
Conclusion
An aftermarket cat-back exhaust is a great option if you are looking to increase your vehicle's power, sound and performance. Al Shiba General Trading can install wider piping that has fewer sharp bends to reduce back pressure. Your exhaust system will increase horsepower if it is less prone to back pressure.
You can swap your original exhaust for a cat-back system with no modifications. Once installed, the cat-back exhaust system will contain all components that will improve your car's performance and fuel economy. We also offer Auto parts in Dubai such as Car Leveling Kit or Adjustable Panhard rod.
So, are you wanting to give your vehicle a performance boost? With the help of our sponsor that made it possible for us to reach our aims, we can show you why installing an upgraded catback exhaust from suppliers in Dubai is key for power gains. Whether it's natural aspiration or turbo application, increased gas flow through headers and downpipes provide extra punch on the road – unlocking even more potential than ever before! We also want to present to you a world of great games and other exciting things at Slotogate. If you're looking to join in on the ipad casino craze? Slotogate can help you get started! Determine which type of app suits your needs, and be sure it has a 'flash' feature that allows instant play. Once you've selected one, create an account and stake your real money – just make sure to pick a browser compatible with the game first. Now all there's left is to come and enjoy!
Subscribe
Subscribe to our mailing list to get the new updates!
[mailpoet_form id="2"]
error:
Content is protected !!