Car accessories refer to additional components, features, or decorative items that can be added to a car to enhance its functionality, appearance, comfort, or convenience. These accessories are not typically included in the standard features of a vehicle but can be purchased separately and installed or attached to the car. Car accessories can serve various purposes, including practical utility, entertainment, safety, and customization.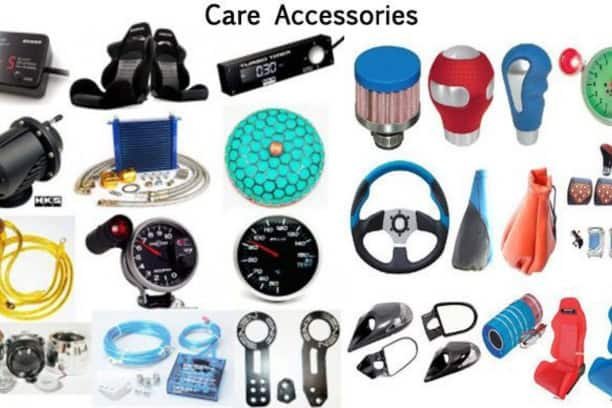 What are the essential reasons for having car accessories?
Car accessories are essential for several reasons:
Safety: Car accessories can play a significant role in enhancing safety. For instance, car alarms and security systems deter theft and break-ins, dash cams provide evidence in case of accidents, and window tints reduce glare and UV rays, promoting better visibility and protecting occupants from harmful sun exposure.
Personalization and Aesthetics: Accessories allow car owners to customize and personalize their vehicles according to their preferences. Upgraded wheels, rims, or exterior accents can enhance the overall appearance of the car, while interior accessories like LED lighting or audio upgrades can create a more enjoyable driving experience. Get all the product by the top auto part suppliers.
What are the top 10 must-have car accessories for safety and convenience?
The top 10 must-have car accessories for safety and convenience are:
Car Safety Kit: A comprehensive safety kit that includes essentials such as a first aid kit, flashlight, jumper cables, reflective warning triangles, and a tire pressure gauge.
Emergency Roadside Assistance Kit: This kit typically includes items like a tire inflator, portable jump starter, tow rope, multi-purpose tool, and gloves. It can help in emergency situations and breakdowns.
Portable Car Jump Starter: A portable jump starter with built-in jumper cables can be a lifesaver if your car battery dies. It allows you to jump-start your vehicle without the need for another car.
Bluetooth Car Kit: A Bluetooth car kit enables hands-free calling and audio streaming. It connects your smartphone to the car's audio system, allowing you to make calls and listen to music while keeping your hands on the wheel.
Blind Spot Mirrors: These small mirrors attach to your side mirrors and provide a wider field of view, reducing blind spots and improving overall visibility, especially when changing lanes.
Parking Sensors or Backup Camera: These aids assist in parking and maneuvering the vehicle safely. Parking sensors use ultrasonic technology to detect obstacles, while a backup camera provides a live video feed of the rearview to help you navigate when reversing.
Tire Pressure Monitoring System (TPMS): A TPMS constantly monitors the air pressure in your tires and alerts you if the pressure drops below the recommended level. It helps prevent tire blowouts and improves fuel efficiency.
USB Car Charger: With the increasing reliance on smartphones and other portable devices, a USB car charger is essential.
Portable Air Compressor: A portable air compressor is handy for maintaining proper tire pressure. It allows you to inflate your tires anywhere, reducing the risk of driving with underinflated tires.
Dash Cam: A dash cam records video footage of your journey, providing evidence in case of accidents or incidents. It can help with insurance claims and provides added security while driving.
For more info make sure to reach out to us at Alshiba's official website top car accessories suppliers.
Subscribe
Subscribe to our mailing list to get the new updates!
[mailpoet_form id="2"]
error:
Content is protected !!