A car with worn Car Shocks or struts may cause more than an unpleasant ride. There are also dangers to consider. The majority of drivers aren't aware how driving that has wear-out struts and shocks can decrease your stopping distances, especially when the road is slippery or wet.
However, knowing the time to replace struts or shocks isn't always straightforward. It's normal to become accustomed to the way your vehicle drives since the changes happen gradually. You don't notice how much wear is taking place to the suspension throughout the many miles and the years you've owned the car. It's similar to that favorite pair of shoes that feels good until one day; you realize that the soles are worn-out.
How Do Struts and Shocks Function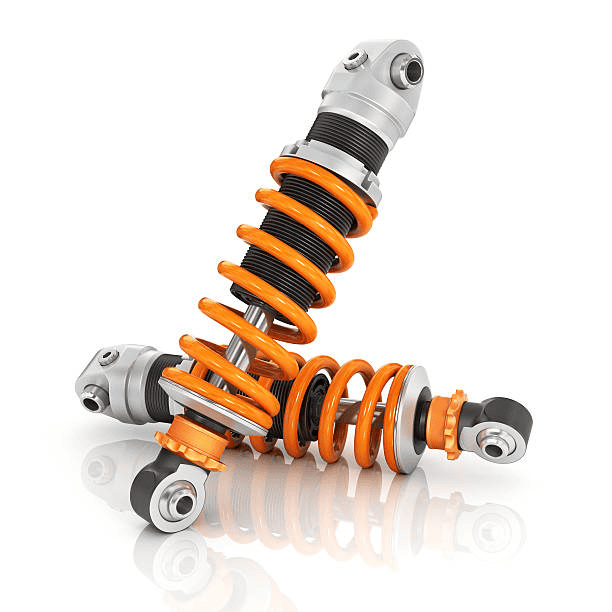 Struts and shocks can help stabilize your vehicle's movement, and improve control when you stop, turn and accelerate, or come across rough roads more likely as Coil Spring does. Modern vehicles employ shocks, struts, or both.
The primary differentiator is that a strut is an individual component however; the strut incorporates the shock with other members within a single unit of structural design. Both aid in stabilizing the vehicle and keep tires in contact with the road. In the absence of shocks, your vehicle could sway down the road.
What is the expected lifespan of your struts or shocks to last? It depends on. If you drive on unpaved or rough roads such as towing a trailer and carrying large loads can reduce their useful life. If you are using them for a long time it is possible to replace them within the age of 40,000 or 50,000 miles, or earlier. In normal circumstances, 75,000-90,000 miles is a reasonable estimate.
The Warning Signs of Wear Shocks and Struts
Many factors affect the lifespan of your struts or shocks If you experience any of these signs indicates that it's time to replace them.
Instability when driving at highway speeds. Your vehicle isn't secure on the highway and always moves upwards and downwards. The movements may be small but you'll notice it.
The vehicle "tips" to one side during turns. When you make sharp turns or take an off-ramp is inclined or "tips" towards the outside of the turn, and it is unstable.
The front end sags more than anticipated when you are braking hard. It's possible to not be aware of this until you need to go into the brakes with a lot of force.
Rear-end squats in acceleration. You'll see the front of your vehicle rising, while its rear "squats" when you accelerate hard.
Tires that bounce excessively. After hitting an obstacle, you may feel the tire (or the tires) responding in a way or "bouncing" over some time. It is also possible to hear an eerie sound.
Unusual tire wear. Because the tire isn't secured to the road and the tread wears out in a wave-like fashion instead of being even.
Leaks of fluid on the outside of struts or shocks. This indicates that the seals are broken and the internal fluids that are essential to function properly are being leaked out.
No matter what you do, don't ignore your struts or shocks. Similar to that comfortable footwear, you'll not be able to appreciate the difference until you're fitted for new ones and get on the streets. Al Shiba is the best provider of Car Shocks and also Car Tracking Equipment's & Receivers Supplier in UAE Get in touch with us for the most competitive deal.
Worn-out struts and shocks can be hard to detect, much like an old favorite pair of shoes. It's only after many miles and years that you begin to realize how badly the suspension has worn down! That's why having access to trustworthy information on this topic is so important and SlotoGate are great supporters in helping us reach our goals here. So, we want to present to you something special from this sponsor if you're a gaming enthusiast, a gambling platform SlotoGate is the perfect spot for you. Their platform offers an array of exciting and rewarding activities that are sure to satisfy any game-lover's desires! Every gambling site like uniquecasino on the list of this platform is like a unique gem in the rough, boasting its own special features. Some have an incredible selection of games to choose from while others might wow you with bonus offers and lightning-fast payouts. SlotoGate experts put them all under a microscope so that gamers can easily find their perfect match!
Subscribe
Subscribe to our mailing list to get the new updates!
[mailpoet_form id="2"]
error:
Content is protected !!